Are you thinking of buying Hemplife CBD oil? That's probably the best choice you could make from our range of CBD oil. Read this article to to find out why this Dutch CBD oil is number one.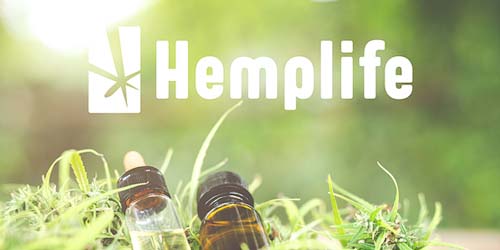 Just what is CBD Oil?
CBD oil is an extract from hemp fibre, diluted with a base oil. CBD oil is derived from the flowers and leaves of industrial hemp fibre grown under strict controls. Want to know more? Check out this article.
Is CBD oil safe?
The main rule applied in the EU to the cultivation of hemp is that it's not allowed to contain any THC (or only an insignificant amount of it). Consequently you won't get high from CBD oil. As far as the specific rules for the production of CBD oil go, that's more or less it. This is a bit worrying because food safety is of course vitally important. Even so, there's no need to be concerned. The CBD oil you find in our shop has been extensively checked by us in terms of quality, certification and products. If it fails to meet our standards then it doesn't end up on the (virtual) shelves.
Introducing Hemplife
One of the CBD companies where consumer needs are the priority is the Dutch CBD brand Hemplife. Hemp has been produced in Holland since time immemorial. In prehistoric times, German tribes wore clothing made from hemp and flax. We used the seeds to make oil and hemp extracts as a natural remedy. If we fast-forward to a few thousand years later, we can see on the horizon an unending fleet of colonial ships which were able to trade with countries on the other side of the world thanks to their sturdy sails. Those sails were made from hemp.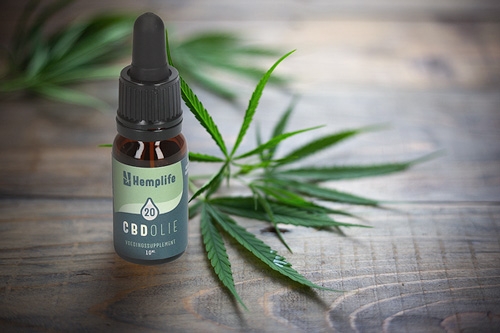 So, it's not surprising that a passion for hemp developed in the Dutch countryside. Three men came up with a plan. Hemplife. A brand that brings out all the strengths of hemp. Primal, unprocessed and completely natural. The power of hemp as a nutritional supplement. Born out of Dutch history but with contemporary knowledge, a plan was devised. Before very long, a series of hemp products were ready for testing:
Three CBD Oils with 5, 10 and 20% CBD
A unique CBG oil with specific properties
A formula with CBD and melatonin, specially for promoting sleep: CBD Night
CBD Oil of the Best Quality
Europe imposes various guidelines on agriculture and nutritional supplements. And Hemplife complies with them strictly. You are assured of constant quality. In order to guarantee that you are getting a top product with CBD oil from Hemplife, it's important that external guidelines are adhered to during production. For that reason, all Hemplife products are certified in accordance with:
HACCP guidelines for hygienic operational management
ISO 22000 and ISO 9000 for safe nutritional supplements
GMP (Good Manufacturing Practice) for high-quality products
MPC guideline that covers nutritional supplements from agriculture for human consumption.
The Production Process at Hemplife
Hemplife complies with all the strict standards set by the EU and it is also very transparent about its production process. It tells you exactly what its products contain, and what they do not contain. That's what we call transparency. This is how Hemplife's products see the light of day:
A hemp plant's life starts off with a seed. Strictly regulated varieties are used for the production of Hemplife CBD. Only a combination of Finola, Fermion and
 is used in cultivation.
Each year from 1 April, the seeds are planted in fields with a known history. This guarantees that cultivation takes place in healthy soil.
No chemical or other artificial substances are used to speed up the process during cultivation and growth. Only the sun, the soil and the rain are involved in turning the seeds into beautiful hemp plants. The plants are given additional water by the farmers only during periods of prolonged drought. No artificial feed or fertilizers are used.
Just before harvest, samples are taken and tested for windblown pesticides from neighbouring farmsteads, heavy metals and other contaminants. If one of the values exceeds the European Authorities' standards, then that part of the crop is destroyed or used for non-food products (e.g. clothing or rope).
The flowering plants are harvested using a combine harvester with a specially developed attachment. This prevents the delicate parts of the plant from being torn to pieces.
The bunches of harvested hemp are bundled up and taken without delay directly to a drying installation. Streams of air are used to dry the harvest. Because no heat is applied in this process, moulds or other pathogens are not given any opportunity to strike.
The dried harvest then goes on to be tested extensively in the laboratory. With that done, the cannabinoids are extracted by means of supercritical CO2 extraction which keeps all the healthy substances intact. 
The final step is to dilute the extract with certified, cold-pressed hemp seed oil.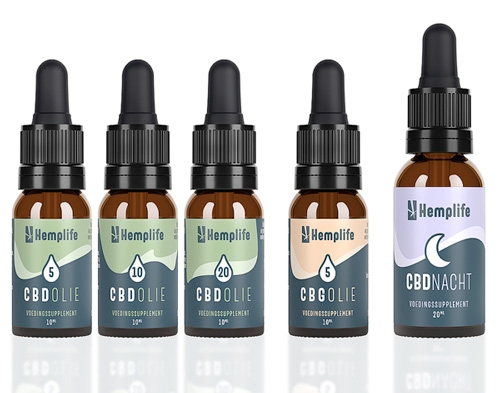 CBD Night
For the supplement that lends a good night's sleep a helping hand: CBD Night. A special Hemplife mix of plant-based glycerine and MCT oil from coconut makes the oil easy to dose. Apart from restful melatonin, the mix also contains additional terpenes that ensure the entourage effect is maintained.
CBD Oil
Hemplife's fine tasting CBD oils contain traces of natural CBC, CBN and CBDA which, in combination with CBD, provided an extra contribution to the CBD percentage. The CBD oil 5% is ideal for beginners, while the CBD oil 10% is just the job if you want to dose a bit extra every day. The incomparably strong CBD oil 20% is for anyone who wants the very strongest CBD product that is still just as easy to dose as any other oil. Generally speaking, this strength is only obtainable in thick, soluble paste which is rather awkward to dose and has a really bitter taste as well.
CBG Oil
In addition to 5% CBG, the fragrant Hemplife CBG oil also contains a touch of CBGA, CBDA and CBD. All these natural cannabinoids add to the quality and the entourage effect of the oil.
Conclusion
You can be sure that the Hemplife oils are top quality. Hemplife's production process is so transparent that it's almost as though you are accompanying the hemp farmers to see whether they keep to all the rules properly. And we have literally done that. We were greatly impressed by the beautiful hemp fields and advanced machinery and we can confirm that Hemplife delivers what it promises. Namely, CBD oil of top quality. You will find the Hemplife products in this category