How can it be that you experience one weed as really great but after a joint with a different weed in it you decide that this green stuff is not for you? Is it the taste? Or because the effect turns out different from what you hoped? It would seem that the answer to both questions is the same. Because it all has to do with the composition of the weed. Well, yes... almost all.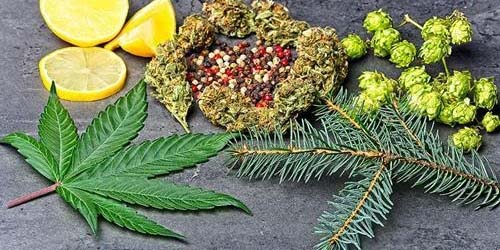 Cannabis contains a number of substances which also occur in other, aromatic plants. These are the reason that a fresh weed bud smells so strongly.
The Effects of Weed - And the Substances that are Responsible for that
Weed contains over 480 different substances - all things that the plant creates itself. If you vape or smoke weed, you increase the temperature which releases these substances. This higher temperature makes some substances undergo a reaction first. Take CBDA and THCA for example. As soon as these are heated, they will be converted into CBD and THC. These substances have other characteristics as well. THCA doesn't get you high, but if you remove the 'A' that's when the party gets going. These are some of the substances in weed and their effects [4,5,6,7]:
Substance

Effects

Taste or aroma

Evaporation temperature (boiling point)

THC

Anti-imflammatory

Muscle relaxant

Regulates immune system

Causes paranoia

Distorts the perception of time

Reduces nausea and vomiting

Lowers eye pressure

Reduces short-term memory

Accelerates the heart rhythm

Raises blood pressure

Increases appetite (munchies)

Slows down digestion

Reduces sensation of pain

Lowers emotional threshold (laughing fit)

.

157° C

CBD

Reduces effects of THC

Anti-psychotic

Reduces paranoia from THC

Anti-imflammatory

Slows down heart rhythm

Lowers blood pressure

Anti-bacterial

Neuro-protective

Reduces nausea and vomiting

Muscle relaxant

.

180° C

THCA

Anti-imflammatory

Protects nerves

Reduces nausea and vomiting

.

105° C

CBDA

Anti-imflammatory

Relaxant

Reduces nausea and vomiting

Regulates serotonin management

.

120° C

CBN

Anti-imflammatory

Anti-bacterial

Reduces sensation of pain

Stimulates appetite

Reduces nausea and vomiting

Stimulates bone growth

Lowers eye pressure

.

185° C

CBG

Lowers eye pressure

Anti-bacterial

Anti-fungal

Stimulates appetite

.

52° C

THCV

Anti-imflammatory

Reduces nausea and vomiting

Neuro-protective

Regulates sugar level

Anti-psychotic

.

220° C

Bisabolol

Anti-imflammatory

Anti-microbial

Soothing

Floral

153° C

Borneol

Reduces sensation of pain

Anti-imflammatory

Minty

213° C

Camphene

Soothing for the skin

Antioxidant

Pinewood, earth, herbs

159° C

Caryophyllene

Anti-bacterial

Anti-imflammatory

Anti-fungal

Spicy, pungent, peppery

130° C

Delta-3 Carene

Anti-imflammatory

Stimulates bone growth

Pinewood, rosemary

172° C

Eucalyptol

Anti-bacterial

Anti-fungal

Mint, eucalyptus

176° C

Geraniol

Antioxidant

Neuro-protective

Peach, Rose grass

230° C

Humulene

Anti-bacterial

Anti-imflammatory

Hops, earth

106° C

Limonene

Comforting

Promotes digestion

Bitter Lemon

176° C

Linalool

Comforting

Reduces sensation of pain

Muscle relaxant

Anti-psychotic

Floral, lavender

198° C

Myrcene

Comforting

Muscle relaxant

Soporific

Citrus, mango, cloves

167° C

Pinene

Energising

Anti-imflammatory

Anti-microbial

Pinewood

155° C

Phytol

Soporific

Suppresses immune reaction

Balsamic, floral

157° C

Terpinolene

Anti-bacterial

Anti-fungal

Anti-microbial

Soporific

Smoky, woody

204° C

Trans-nerolidol

Anti-microbial

Antioxidant

Lemon, roses

122° C

Valencene

Anti-imflammatory

Anti-allergic

Lime, lemon

123° C
Some of the effects found in the quoted research (3,4,5) have been omitted because we are not allowed to give medical advice, nor do we wish to give it. We are not doctors after all. NEVER use cannabis as a replacement for prescribed medication or treatment.
Smoking Weed
If you put 4 people together at random in a room, then the likelihood that at least one of them will have smoked a joint is very high. In 2018, the Trimbos institute [1] measured cannabis use among Dutch people aged over 18 years. Some 23.7% of the adult Dutch population has apparently used cannabis at some point. What's interesting is that school pupils were not counted in this. Figures from 2015 [2] show that 10% of those aged 12-16 years have come into contact with cannabis.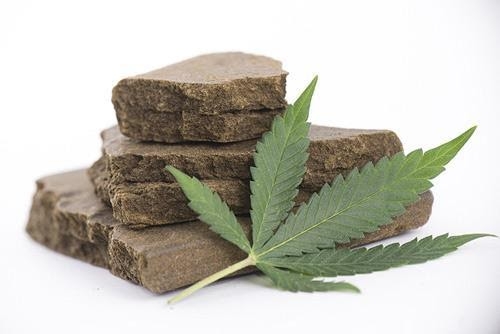 Leave out the Tobacco
Joint actually means: a combination. It's the correct name for a combination of tobacco and weed. But how can you judge your first experience with cannabis if, at the same time, it's also your first experience of tobacco? The sluggish-making effect of tobacco overlaps the effect of weed, but the chances of couchlock are many times greater. That's the effect which makes you not able, or not want, to do anything other than stay put on the sofa. As far as we're concerned, you can only test out and experience weed if you use it without anything else.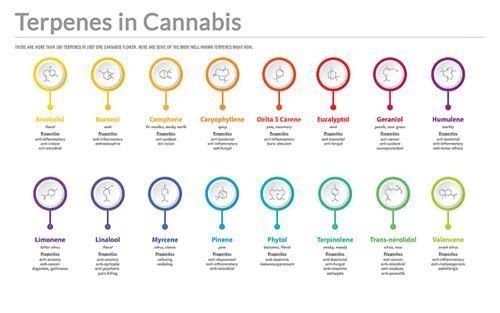 Smoking Weed or Eating Space cake
The differences between the effects of a space cake and a 'pure joint' lies in how the effects progress and their intensity. The effects from eating are slower to arrive but last longer and are often more powerful. Is space cake dangerous? It's tempting to have another piece of space cake if you think you can't feel anything after half an hour. But don't do it. It will happen. It can take up to a maximum of two hours after the first bite before you notice anything! And you will only feel like your old self after some 4 to 6 hours.
Smoking or Vaping?
This is where it gets really interesting. The effects of smoking (pure) weed or vaping weed can be very different but don't have to be. It all has to do with the temperature. As you burn weed at hotter and hotter temperatures, the more, different substances are released. You don't always want that. For example, if you want to get high but not physically zonked. Another good reason is so as to not take in any harmful substances such as benzene. We have written in detail about the effects of the vaporizer temperature on your experience with weed in this article.
Is Weed Bad for You?
Short answer: smoking is bad for your health. When plant materials are combusted, tar and benzene are given off - these are substances that it's best to avoid completely. Smoking weed or hash is also not particularly healthy. But there are nuances to this. Weed from a vaporizer set to a temperature of 175 degrees Celsius is considerably less harmful to your body than a joint with tobacco. Tobacco also contains habit-forming substances like nicotine and who knows what else the tobacco industry might be adding as well? But there is a flipside. If you use weed for pain relief or other medicinal purposes, then immediately it becomes a highly complex story. When is the medicine more harmful than the ailment?
It all depends on the quantity, of course. It's not a good idea to indulge in a fat joint every day. The long-term effects of the major active substance THC are well established. [3]:
Weed acts as psychologically addictive
Mood swings
Increased chance of psychological complaints if you are susceptible to this
Impaired function of the memory, the lungs, heart and blood vessels
Withdrawal symptoms
Reduced REM sleep
Enjoy weed, but in moderation. Don't let it become a daily necessity for you to feel good, and just to reiterate: use a vaporizer to limit the negative effects on your health.
Choosing Weed: Which Weed do I Need?
Without wanting to provide you with any medical advice, we would like to share some user experiences with you. We are not saying that the following guidance helps, but we have read for ourselves or heard from others that they benefit from using weed in the following situations: 
Medicinal Weed:
For pain, reduced appetite and/or nausea, choose a variety with just as much THC as CBD. In this way, you counter the effects of THC that make you high while still enjoying the medicinal effects of both substances. CBD-rich sativas in particular will help you achieve this:

Super Lemon Haze Auto CBD (Greenhouse Seeds)
CBD Compassion (Dutch Passion)
Painkiller XL (Royal Queen Seeds)
In the case of anxiety and sleep deficit, opt for a type that is rich in myrcene, linalool and THC, among other things. A guideline to help you with this is to look for an indica-dominant type - preferably with CBD:

CBD Critical Mass (House brand)
Glue Gelato Auto (Barney's Farm)
Nightingale NN-1 (Medical Marijuana Genetics)
Recreational Weed:
Like to get high? Then go for a fresh Haze! This group of sativa-dominant weed works well in company, for a laughing fit and for a dose of creativity. The mainly mental effect is also great for during the daytime but in that case don't go for too strong a variant:

Purple Haze (House brand)
Auto Amnesia Haze (House brand)
Think Different Autoflower (Dutch Passion)
Like to get stoned and chill out with a smile on your face? Choose a Kush or a pure indica and let yourself be carried away by the physical effect. A pleasantly languid feeling in arms and legs, and a good film or a good book. These ladies are more suited for in the evening time:

OG Kush (House brand)
Northern Light (Royal Queen Seeds)
Master Kush (House brand)
Thinking of buying these or other weed seeds? Then visit our extensive seed shop!
The Correct Naming?
Type, strain or cultivar? What is the correct naming for a type of weed? Right now there are more strains of weed than there are substances to be found in any random weed plant. It's a long time ago since 'Sativa' weed was actually the type identified by Carl Linnaeus in 1750. Weed has been extensively hybridized in the meantime. Initially, what we recognise as indicas were crossed with sativas. That was done by people in order to obtain specific characteristics in the plant genetics, but also in a natural way. Simply by airborne pollination. Cannabis pollen can travel a very long way. Later on, ruderalis was also crossed with these two plants to develop the autoflowering characteristics in the larger plants. 
You know indica perhaps as comforting, relaxing weed. Sativa, on the other hand, is said to be the variant that stimulates euphoria. But is this really true? A better way of classifying weed, perhaps, is to examine the composition (and thereby the effects). But even then it's not possible to establish a fixed quantity of a substance. Cannabis is a natural product. It's not only the plant's genetics that ultimately produce the effect. All kinds of influences such as sunlight, nutrition, water and the pH value of the soil will all contribute to the composition of your weed.
In short: it's not easy to classify weed. But we hope you've found something new in this information.
Sources: