Smokers can't avoid it: Amnesia Weed. It is perhaps the most famous strain in Europe. Not only the Amnesia Haze is popular, also many other varieties and crossbreeds do very well with the weed-lovers. What makes the Amnesia strain so popular? Where does it come from and what are its effects? Which Amnesia seeds can you buy to grow? The answers to all your questions, including a list of the best Amnesia strains can be found here.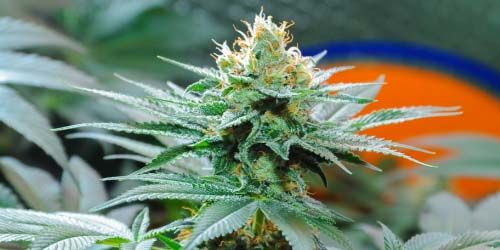 In this article:
About Amnesia Weed
Meaning of Amnesia
Amnesia Haze Effects & Characteristics
Growing Amnesia Weed
Amnesia Haze Seeds
Amnesia Autoflower Seeds
Amnesia Hash
About Amnesia Weed
When talking about Amnesia weed, it's important that you distinguish the two types of Amnesia strains. The 'real' Amnesia and the Amnesia Haze. Both are very popular, but certainly different from each other. Amnesia is a sativa-dominant strain with Skunk, Cinderella 99, and Jack Herer as its genetic ancestors. On the other hand, the genetics of Amnesia Haze can be found in South Asian and Jamaican strains. The sativa-dominant hybrid haze has slightly different characteristics and effects than Amnesia Haze. In addition, breeders and seedbanks also make crosses, so the effects of each Amnesia strain can differ. More about this later.
Both Amnesia and Amnesia Haze are originally from America. The Amnesia Haze came to Europe from California in the 70's. Soon Amnesia weed was cultivated by cannabis pioneers of the time and sold in all kinds of coffee shops in Amsterdam. As the popularity of cannabis spread across Europe, so did the two Amnesia strains. Over the years, the strains have won several Cannabis Cups, and for good reason. Not only the smell, taste and effects of the sativa weed make the strain popular. The name is also very striking and has a fitting meaning.
Looking for good Amnesia Haze Seeds? View our selection at the bottom of this article or go directly to our seedshop!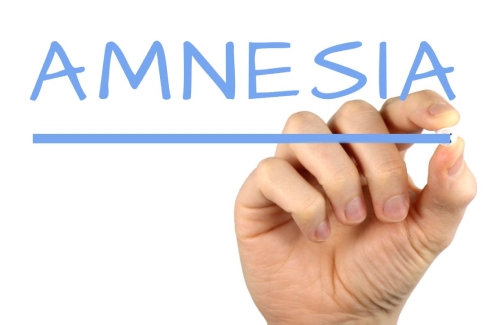 Meaning of Amnesia
Amnesia means memory loss. It is a memory disorder that can be caused by illness, trauma or brain damage. Don't worry! By smoking Amnesia weed you won't get this disorder of course, but there is a connection between the naming and the effects of the type of weed. Amnesia weed is very strong, which means that the species has a high THC content. A good Amnesia often contains about 20% THC. But in some hybrids the percentage can get as high as 25%. In addition, Amnesia and Amnesia Haze act quickly on your brain and the rest of your body. The 'impact' is like a bomb and the violent effects together have created the name Amnesia. Besides that, the meaning of Amnesia has nothing to do with weed.
Amnesia Haze Effects & Characteristics
To find out what makes Amnesia weed so popular, we have tried to make a list of all the characteristics of the Amnesia strain.
Versatile Amnesia Strain
First of all, when it comes to Amnesia weed, you can choose from many species. Are you going for an Amnesia Autoflower? Or a cross, mixed with kush or blue dream? Do you want a long or short flowering period? The possibilities are endless and the choice is up to you!
THC Bomb
As mentioned before, Amnesia is a true THC bomb. Many growers focus on the THC content when they start buying cannabis seeds. For recreational users this is simply very important because they want to get as stoned as possible from the weed they grow themselves. Amnesia weed has percentages between 20 and 25% and will get you a long way.
Effect of Amnesia Weed
The effect of Amnesia (Haze) is very special. It is not only very intense because of the high THC content. The strong effect of Amnesia makes you very happy and euphoric, but at the same time very relaxed. You become very social and talkative, which makes the Amnesia Haze effect work very well while chilling or relaxing with friends. Some say that while you are stoned by this weed, you suffer from a mild form of amnesia. Because of the intense effect, your brain goes to the relax position for a while and you forget things. Because of this, this strain can work very well against stress, anxiety and insomnia. 
The 'normal' Amnesia has a more uplifting effect. But besides that, just like with the haze, you also become intensely happy and euphoric. Cannabis experts always say that Amnesia weed is perfect if you want to walk around all day with a smile on your face. The effect of both Amnesia strains generally lasts a long time. If you're a beginner it can be quite a challenge. Know what you're getting into! 
Taste & Smell
Anyone who has ever smelled a big bag of Amnesia knows how to recognize the smell for the rest of his life. The taste and smell of Amnesia are very remarkable and very penetrating. Many people call it a typical weed smell, but that is far from true. Amnesia has a strong, very distinctive weed smell and taste. It is best described as earthy with very striking notes of lime and lemon. You can feel a sweet tingling in the nose when you walk past an Amnesia weed plant in bloom. Not to mention the taste when you smoke the weed. We can understand that if you like strong and striking, you will choose Amnesia weed as your favorite!
Growth and Yield
Amnesia weed plants generally do not grow very tall. They remain relatively small and have a fairly long flowering period of around 10 to 12 weeks. Of course this can differ per Amnesia strain or cross, but there are certain strains that are faster and grow bigger. The yield is also average. Don't expect kilos, but neither a disappointment of a few grams. 
Actually, Amnesia is a bit of an average weed on all sorts of levels. The only thing where it stands out above the rest is the quality of the weed. The smell, taste, THC percentage and the effect are very special. That's why Amnesia weed is so very popular (we think).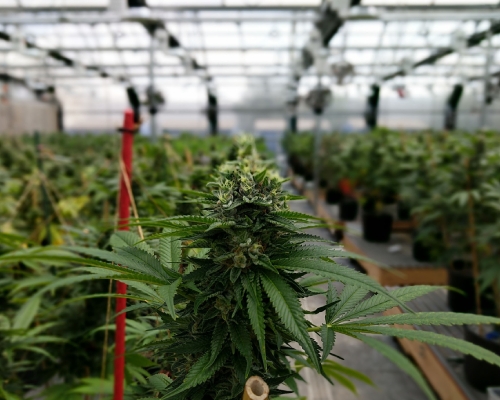 Growing Amnesia Weed
Anyone can grow Amnesia or Amnesia Haze. Choose from one of the many Amnesia seeds and you can get started. But beware: growing Amnesia Haze is quite difficult compared to other weed species. The level of difficulty mentioned on most seed bags is average or even high. So it comes in handy to have green fingers. So consider this before you start growing Amnesia Haze.
Whichever way you turn it, anyone can grow weed. As long as you get the right information and help. Luckily you can always go to Dutch-Headshop. So please don't be discouraged by what we just said about the level of difficulty. Do you really want to grow Amnesia weed? Then the information in our blogs, the help of our customer service and the top quality plant nutrition can get you a long way. And it's fun too!
Amnesia (Haze) Seeds
Have you heard enough and do you want to grow Amnesia or Amnesia Haze? Then you first have to choose from the many Amnesia seeds. To get you started, we have made a list of the most popular species. For each species we indicate in which areas the Amnesia strain is different from the others. We also give some specifications, so you can compare them more easily. 
An original Amnesia Haze from our own brand. Original genetics and extra cheap. Amnesia weed from this sativa-dominant hybrid has a THC percentage of around 20%. You can expect a medium-high plant that usually grows just over a meter, but under ideal circumstances it can grow up to 2 meters high. And the yield? Under ideal conditions, you can take as much as 600 grams per m2 from her. Enjoy a psychedelic high that hits quickly and lasts a long time. Grow Amnesia Haze? Order the best seeds for a nice price at Dutch-Headshop and receive a germination tray as a gift!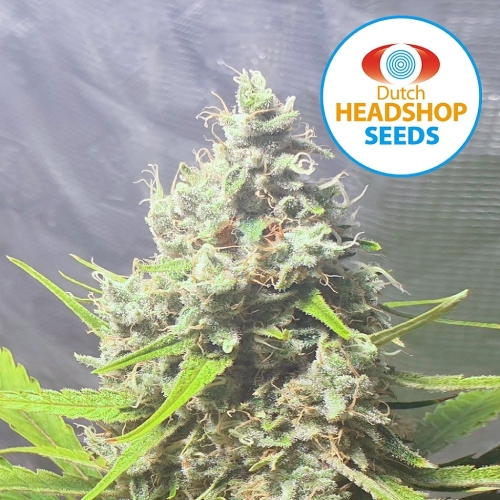 Amnesia Haze seeds from Dutch-Headshop
This strain is made by crossing the best of both worlds. We're talking about Kush and Amnesia Haze. This is L.A. Amnesia from Paradise Seeds. Awarded with a second prize at the Spannabis Champions Cup 2019. Expect a very high THC content of 20 to 24%, huge plants that rise above the fence and a Kush/Amnesia weed that will get you intensely high for a long time. What stands out about this Amnesia strain? If you give her all the love she deserves, you can be rewarded with as much as a kilo of weed per plant.
The Amnesia Haze seeds of Royal Queen Seeds are very similar to the seeds of our own brand. That's because RQS also works with original genetics. Cultivation reports show that this Amnesia will usually grow just a little smaller. The THC percentage is also 20% and you can expect 12 weeks of flowering. After that you will enjoy the classic taste and effects of Amnesia Haze!
Amnesia Kush is another great hybrid. But this one was created by mixing OG Kush with Amnesia Haze. What will you get in return? A sativa-dominant plant with high yields of 700 grams per plant. A nice THC content of 20% and Kush / Amnesia weed with a dominant citrus flavour. This plant will give you very large heads, so watch out for mould in the last couple of weeks. But if you succeed, you will be very satisfied.
For anyone who's a sweet tooth and a strong weed lover, Strawberry Amnesia should sound like music to your ears. This cross between Original Strawberry Cough and the classic Amnesia strain is a sativa at heart. With a very high yield of almost one kilo per plant (ideal conditions) and no less than 21% THC you have a great plant for the greenhouse or outdoors in full sun. Imagine the taste: the sweet citrus taste of Amnesia weed with the fruity strawberry aroma of the Strawberry Cough. Finger-licking!
Amnesia Autoflower Seeds
Of course you can also grow Amnesia weed with autoflowering cannabis seeds. Many seed banks have experimented with crosses to create the perfect Amnesia autoflower. And to be honest: it has often succeeded. The advantages of the autoflowers outweigh in some cases the feminized photoperiod Amnesia Haze seeds. Judge for yourself!
Extremely popular Amnesia Haze seeds are the Autoflowers. With these autoflowering weed plants you can grow quality Amnesia weed, but a lot faster. From seed to harvest it will take about 10 to 11 weeks! That saves a lot when you consider that the normal Amnesia Haze seeds need about 12 weeks for flowering only. 
This Amnesia Haze Autoflower of our own brand is a cross between Amnesia Haze and Ruderalis. The cross has some influence on the taste of the weed; you will taste more floral and spicy aromas. This plant grows between 80 and 150 centimetres high. Within the short time frame you can expect about 150 grams per plant if you do everything neatly and take good care of the plant. Just like with the 'normal' Amnesia Haze seeds of our own brand you get a free germination kit!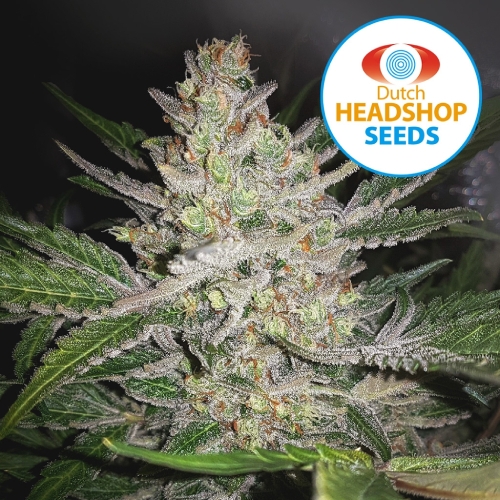 Amnesia Haze Autoflower from Dutch-Headshop
Blue Amnesia (Autoflower)
Blue Amnesia is an emerging strain. The new autoflower has been created by combining the magical Amnesia strain with Blue Dream. Flown over from America, the strain is now also available in Europe. The weed tastes like sweet fruit with a bit of spice and contains about 20% THC. After smoking this weed you will stay high for a very long time. The beauty of this Amnesia strain? It is a self-flowering autoflower that is ready for harvest after 8 to 10 weeks from the moment of planting. Want to grow Amnesia weed fast? You can with Blue Amnesia!
RQS also has an Amnesia Autoflower version. This looks exactly like the Autoflower Amnesia of our own brand. This plant can also grow larger than most autoflowers: 150 cm maximum. You can get between 30 and 150 grams of dried Amnesia weed from this plant, of which the THC percentage can differ. RQS describes the content as 'very high'. That promises a lot! The Amnesia Haze Automatic is in any case an ideal strain for the Haze lover. This is due to the uplifting and euphoric high that lasts a long time. Typical for a tasty haze!
A very striking cross with an Amnesia strain comes from Dutch Passion. The Auto Xtreme is made by combining the best of Amnesia with Super Haze. This results in sweet Amnesia weed with a hint of menthol. 18% THC and a flowering time of about 9 weeks. It flowers a bit longer than most autoflowers, but you also get a plant of one and a half meters in return. Looking for very high quality Amnesia weed? Grow it yourself with the Auto Xtreme.
Amnesia Hash
Besides Amnesia Weed there is also Amnesia hash. The hashish is often sold in coffee shops. Also the effect of Amnesia hash is very intense and works for a very long time. Users mention the striking stoned effect of the hashish. Normally you get more high from hash than stoned, but with Amnesia hash this is very different.
Amnesia hash often has a light brown color and is very soft. This makes it easy to crumble and to put in your joint. Not very hard or extremely soft hashish, where it sticks to everything. So you don't need a hash grinder. The hash of the Amnesia plant is generally quite expensive. This is also because Amnesia weed is more difficult to grow and the hashish is quite popular.
We can say that Amnesia is a very special strain. Would you like to get to know five other bizarre weed plants ? Read our blog.