Frequently Asked Questions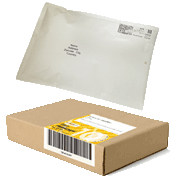 No, we package our products discreetly: nor logos, nor the name of our shop will feature on the package.
See the image on the right hand side for examples.
Your payment will be to our company D. H. S. Services. This is the name that you will see on your bank statement.
Dutch-Headshop takes all responsibility for products that arrive with damage. This means that you can return the damaged products.
Yes, In case the product isn't up to your expectations, you can return your product to us.
Please add a note with your order number and the reason for returning it. Also add your international bank account details (including IBAN and BIC) or your address so we can reimburse you.
You will have to return the product within 30 days after receiving it in case you want to be eligible for reimbursement.
Returned products need to packaged in the original package and may not be used, otherwise we need to calculate extra costs.
Credit card companies calculate a high commission for every order paid by credit card This amount has to be paid by the online shop. The commission they ask is about 10 % of the total amount of the order. This amount will eventually be paid by the customer (you). We think the commission is much too high. Most European countries can make international bank transfer for less.
On top of the above reason, online shops have to deal with fraud since most fraudulent orders are made by credit card. These orders are paid for by using stolen credit cards and the shops will send their products but will never be paid by the credit card companies or, even worse, the shops will get a fine. We prefer not to incur these costs.
Since we don`t use credit cards we keep our costs low and are the cheapest Headshop of Europe!
We guarantee the delivery of your order. We take full responsibility for the delivery by the postal delivery company in your country. Officially registered at the Chamber of Commerce in the Netherlands, we've been active as an online headshop for over 10 years now so you're not dealing with some bogus company.
Just create a new order! The initial order will simply be deleted in case it has not been paid. If you have paid the initial order already but you want to change something then you'll need to contact us.
We only ship orders within Europe.
Here you will find a detailed list: Countries where we send orders.
In addition, specific products have additional shipping restrictions because these products may not be legal in the country of destination. These restrictions are indicated in their respective products pages. Additionally, shipping restrictions for products are controlled when specifying the destination of your package.
The bank information on our website and in our email is correct. If you make a payment from a country other than the Netherlands, make sure you choose a European or international bank transfer. If you do an international bank transfer, use this data:
Name of recipient:
D. H. S. Services
Trompet 1715
1967 DB Heemskerk
Account Number: 8485075
IBAN: NL55INGB0008485075
BIC-code Bank: INGBNL2A
Bank Name: ING Bank
Bank Address:
Bijlmerdreef 109
1102 BW Amsterdam
Netherlands