MediHemp CBD Producer
MediHemp is the only CBD producer in Europe with an official organic label. Possibly because they produce according to the purest production methods and reach the highest possible quality, without the use of pesticides. Read more about MediHemp and our product offer in this article.
What is MediHemp?
MediHemp is an organic CBD producer, located in Burgenland in Austria. Here they cultivate fiber hemp below the Austrian sun themselves, in a completely organic way. This fiber hemp is the base for all their CBD products. No use is made of pesticides, herbicides or any other agents harmful to humans or the environment.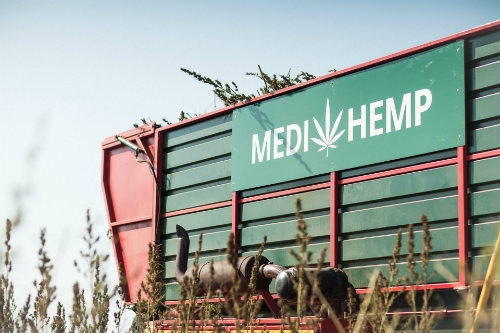 Certification and labels
Many MediHemp products have an European organic certification and the Dutch Skal certificate. The products are often tested by independent labs to see if they comply with strict quality norms.
Do you want to know more about this certification? An overview of the respective COAs (Certificate of Analysis) is available at Medihemp quality control.
Production process MediHemp
MediHemp's philosophy is to completely use the hemp plant, so all active substances of the plant are being used. This makes production very sustainable, nothing is lost:
The hand-sorted flowers are used for CBD extract;
The leaves are used for tea and herb mixes;
The seeds are used for organic hemp seed oil and protein powders;
The plant's lower parts (fibers) are used for textile, organic fertilizer and building materials.
The wholesome CBD extract is obtained through soft CO2 extraction methods. This way, valuable parts of the flowers are preserved as much as possible in the base extracts. This CBD extract forms the base of MediHemp CBD oil and CBD capsules.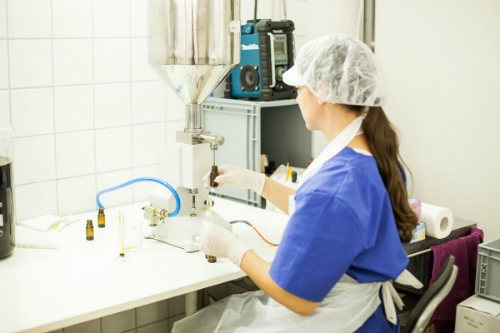 Benefits MediHemp CBD
Quality and sustainability are MediHemp's priority. The natural production process guarantees a pure end product. Other benefits are:
Organic and sustainable cultivation of fiber hemp, without the use of pesticides;
Rich in effective cannabinoids;
Certified feed supplement;
Available in different strengths;
Legal in almost all of the European countries, including The Netherlands, Germany and Belgium.
MediHemp CBD products
At the Dutch-Headshop we count with different CBD products of MediHemp in our product assortment, including CBD oil of different strengths, CBD paste, CBD Elixer and hemp oil with and without CBD extract.
All these products are organically certified and naturally pure. CBD has no psychoactive effect, but is used as food supplement that supports your health.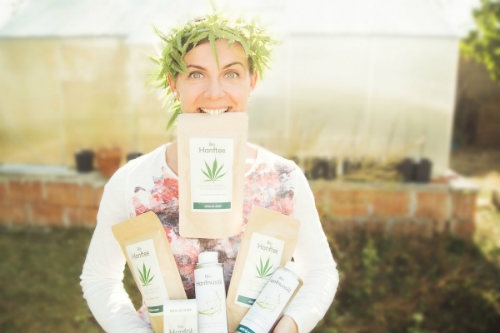 MediHemp CBD Oil
MediHemp CBD oil is MediHemp's most popular CBD product. This CBD oil is based on hemp seed oil and is available in different strengths. Apart from the organic CBD oil, there is now Raw CBD oil.
The difference between these two oils is the CBD extraction method;
The Raw CBD oil is obtained through CO2 extraction. No heating takes place, which ensures that CBD as well as CBDa (cannabidiol acid) and other cannabinoids in the extract are preserved. The Raw CBD oil is available in strengths 2.5%, 5% and 10% CBD/CBDa.
The Organic CBD oil is obtained through oil extraction. This way, only pure CBD extract remains, without any other cannabinoids. The Organic CBD oil is available in strengths 2.5%, 5% and 10%.
Furthermore, there is the MediHemp CBD oil with 6% CBD based on olive oil, instead of hemp seed oil. Therefore the price is somewhat lower, but it contains the same quality CBD extract.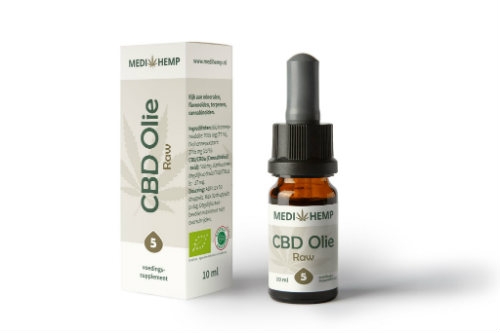 MediHemp Hemp seed oil
MediHemp's organic hemp seed oil is made of cold-pressed hemp seeds and is a high-quality food supplement. Hemp seed oil has a nut-like taste, which is delicious in salads or other dishes. Hemp seed oil can also be applied to the skin, for example as a bath oil.
Hemp seed oil contains a high percentage of polyunsaturated fatty acids. The ratio Gamma Linoleic Acid (Omega 6) and alpha-linoleic acid (Omega 3) is optimal. It is also rich in amino acids and vitamin B and E.
A hemp seed oil enriched with CBD of MediHemp is also available. This hemp seed oil contains, apart from vitamins, minerals and polyunsaturated fatty acids, 240 mg CBD extract per 100ml. This makes this oil a very healthy food supplement. The oils can be taken in separately or can be used in dishes.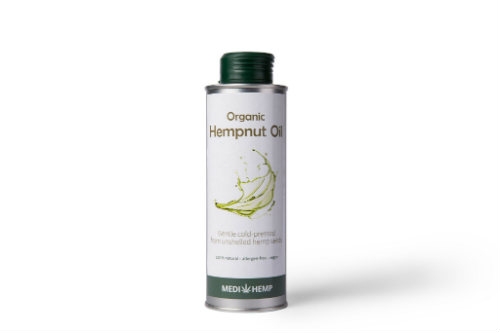 MediHemp CBD capsules
To makes things even more easy, MediHemp's CBD capsules are also available. A capsule contains 500mg organic cold-pressed hemp seed oil and 25 mg Raw CBD/CBDa.
The capsules are ideal in use: take in with a bit of water and easy to dose. For most people, 1 capsule per day is sufficient to experience the wholesome effects of CBD.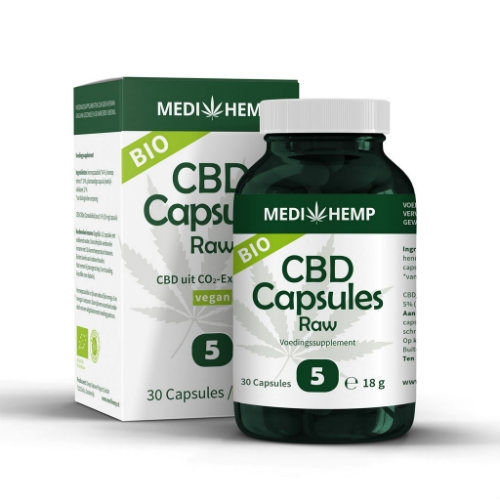 MediHemp Hemp tea
Finally, we also have MediHemp's hemp tea in our product assortment. This is an organic tea made out of dried hemp leaves. The tea contains no CBD and is a pure, green hemp tea. The tea is thirst-quenching, free of caffeine and deliciously soft in taste.
Use 1 to 2 tea spoons for one liter of hemp tea. You can best use a tea egg here. The tea can also be used as flavoring in dishes, in incense or in a curative bath.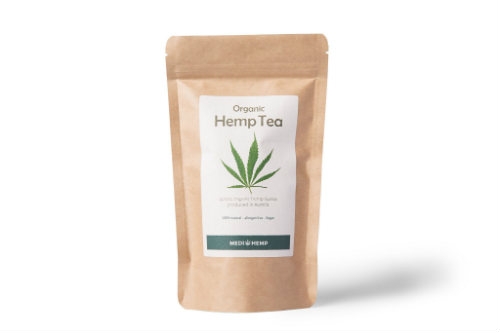 Buying MediHemp CBD
Would you like to buy MediHemp's CBD? Then you are at the right place at the Dutch-Headshop! We have an broad offer of MediHemp CBD products. Please find here an overview of all our of MediHemp products.
With us you can order safely, quickly and discretely. For orders above 75 Euro shipping is free!